Men's teams led by Canadian basketball stars didn't do so well in the Sweet Sixteen.
But three Canadian women are already in the Elite 8 in the NCAA Women's tournament.
Ontario's Andrew Nembhard, the point guard for Gonzaga, and Montreal's Bennedict Mathurin, Arizona's star guard, both underperformed and their top two seed ranked teams were both upset.
But Ontario-borne Laeticia Amihere and Aaliyah Edwards helped carry their top-ranked teams to the next level in their championship run.
South Carolina's Laeticia Amihere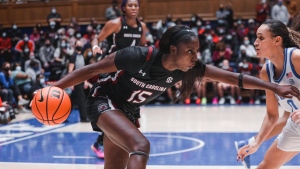 Mississauga-native Amihere is one of the leaders of the top-overall seeded South Carolina Gamecocks. The 20-year-old 3rd-year baller averaged career highs in points, assists, and field-goal percentage as she looks to propel the Gamecocks back to the Final Four. Her 7.1 points per game were second on the team, despite playing just over 18 minutes per game.
Amihere won gold at the 2015 FIBA Americas Under-16 Championship for Women as part of the junior team, and then bronze at the 2017 FIBA Under-19 Women's Basketball World Cup.
In July 2021, Amihere was named to Canada's 2020 Olympic team.
Her next game is Sunday, March 27th at 4 PM against the 10th seeded Creighton BlueJays.
UConn's Aaliyah Edwards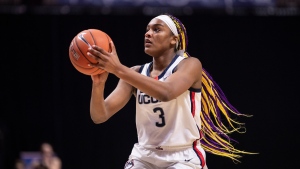 Kingston-native Aaliyah Edwards scored nine points and grabbed 10 rebounds to help her second-seeded UConn Huskies cruise past Indiana to advance to the Elite 8.
The six-foot-three sophomore averaged 7.9 points and 4.9 rebounds for the perennially powerful UConn. The Huskies look to reach a 14th consecutive Final Four and win their first NCAA title since 2016.
Edwards has scored in double figures in four of her past six games. The Huskies have battled injury and illness all year, and Edwards has been one of the more consistent ballers.
Last year Edwards helped the Huskies to the number one ranking in the country and an NCAA Final Four appearance. She was awarded the BIG EAST Sixth Woman of the Year and named to the BIG EAST All-Freshman Team.
Edwards was also part of Canada's fourth-place finish at the FIBA AmeriCup. She made her Olympic debut for the Canadian National Team at Tokyo 2020.
Her next game is Monday, March 28th at 4 PM against the top-seeded NC Stae Wolfpack.
Other Canadians with a shot at being champs
Three other Canadians could join Edwards and Amihere in the Elite 8.
Toronto's Latasha Lattimore is a 1st-year forward on the second-seeded Texas Longhorns. She averages 3.4 points and 2.8 rebounds per game.
Alyssa Jerome is a 5th-year senior who will help the Stanford Cardinal try to repeat as national champs. She averages 0.3 points and 0.5 rebounds per game.
Ottawa's Merissah Russell 2nd-year forward averages 1.4 points and 1.1 rebounds per game in limited minutes for a talented Louisville Cardinals squad. Russell was an alternate on Canada's Women's National Team that competed at the Tokyo Olympic Games but did not travel.
Canadian men's hoop stars couldn't help their teams hoist the championship trophy, but odds are that a Canadian woman will.