Every time a barge of raw logs leaves Vancouver Island, jobs go with it.
Two major island logging corporations, TimberWest and Island Timberlands, export more logs out of Canada than all other BC loggers. In fact, these two pension-fund-owned companies account for more than half of all unprocessed log exports in BC.
Between 2013 and 2016, BC logging companies shipped on average 6.5 million cubic metres out of the country every year (one cubic metre equals roughly one telephone pole's worth of wood.)
In a 2017 report, the Canadian Centre for Policy Alternatives estimated that if those logs had been processed in BC, another 3,600 people could have been put to work locally, turning those logs into lumber, pulp and paper, and other forest products.
In 2019, BC loggers sent close to 5 million cubic metres to offshore mills, more than half to buyers in China.
Not a great situation for VanIsle communities who depend on forests. VanIsle has seen nothing but mills being closed down by the majors over the past several decades. The one exception is the San Group's investment in new facilities in Port Alberni.
Many powerful logging companies are lobbying to export even more raw logs. These include the Council of Forest Industries (the main lobbyist for major corporate loggers), the Truck Loggers' Association (the main lobbyist for independent loggers) and Mosaic Forest Management, which manages close to 600,000 hectares of private forest land on Vancouver Island for TimberWest and Island Timberlands.
The law in Canada requires a logging company to advertise its raw logs to local buyers before they can export. Two years ago, Mosaic started asking the federal government to relax that law to make it easier to sell their logs overseas. So it's Ottawa, not Victoria, who oversees Mosaic's huge private timberland empire. Most of Mosaic's land became private as a part of the E&N land Grant at the end of the 19th century.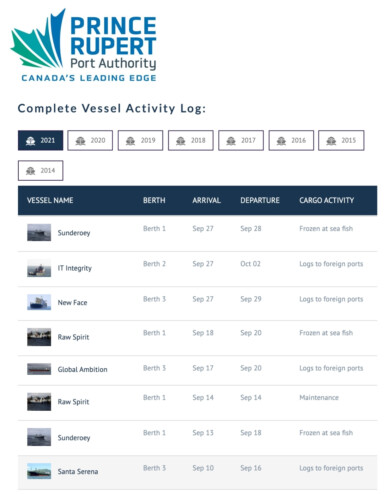 These private land export rules are pretty much the same flimsy policy that applies to companies logging forests on BC's Crown land.
Neither Island Timberlands nor TimberWest owns a single sawmill. Instead, they are in the business of exporting logs and jobs.
And as the number of BC sawmills continues to decline, the push for more exports will only grow stronger. After all, if local mills aren't there to buy logs, the logs can and will go elsewhere.
So do these companies really have jobs and local communities in mind?
That's probably a no.
While protestors from all walks of life fight to keep Teal Jones from cutting the ancient forest in Fairy Creek, big logging continues to quietly push for increased raw log—and job— exports.
Raw log exports are not just a problem on VanIsle. Check out the list of ships (on the right) leaving the Prince Rupert port this year.
BC communities deserve better from the forests that surround them. The BC government and the feds need to lay down the law that makes local wood processing a requirement for doing business in BC forests.
At the same time, investors should hold logging companies to a higher standard. For example, BC Investment Corporation, one of Island Timberland's major shareholders, should read the fine print on its own "responsible investing" propaganda that promises higher level "environmental, social and governance."
Hard to imagine how whacking down Vancouver Island trees and sending them to overseas mills meets any ethical standard at all.